What do classic security modules look like? As a standard, we encounter devices in various types, mostly based on the so-called relay logic.
Not so with the new MINOS range of the German company Zander Aachen, which is based on safe semiconductor outputs. These predetermine a number of features for these modules that distinguish them from "conventional safety relays":
almost unlimited system availability thanks to zero mechanical wear of the contacts

high mechanical stability of the semiconductor outputs and vibration resistance compared to conventional safety relays

significantly higher switching speed

very compact installation possible (housing width only 6.2 mm)

plus 4 status and error LEDs for high diagnostics, further enhancing availability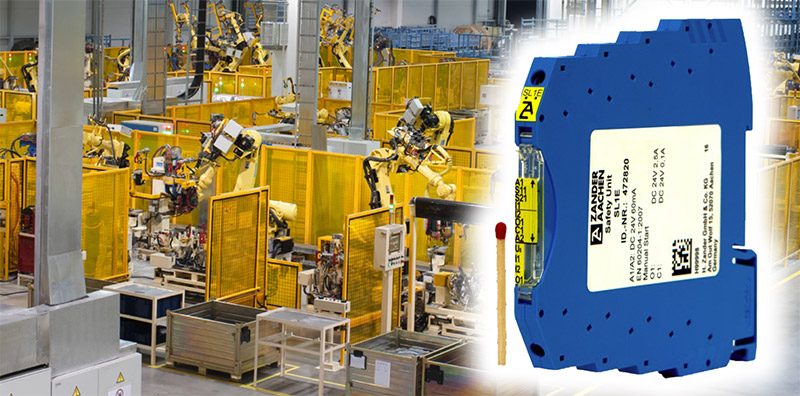 These technological features bring significant benefits to users of conventional security applications. With the MINOS safety modules, it is possible to monitor both the emergency stop buttons as well as all commercially available switches for monitoring and locking the protective covers. It is also possible to monitor light barriers or just reinforce the outputs of safety control systems (Safety PLC).
All these features can be found in MINOS modules, which only take a fraction of the conventional installation (6.2 vs. typical 22.5 mm) of almost all commercially available safety relays. This means that there is more room in the switchboard and maximum freedom in safety logic design.
The MINOS range includes a group of relays in various variants. In addition to the input circuit, different types of connections (screw or spring terminals) as well as the maximum achievable level of circuit safety are distinguished. Especially suitable for the control of sensitive output elements are variants with PL d, which do not send any test pulses at the module output. They are also more cost-effective than PL e variants.
The variety of options available brings another advantage. Wiring costs are minimized as these miniature devices are internally preconfigured.
All MINOS module modules meet the requirements of EN ISO 13849-1 and EN 62061 up to PL e / SILCL 3 (SL1E version). They are designed for use in the process industry in accordance with EN 746-2, IEC 61511-1 and EN 50156-1 (up to SIL 3) - they are certified for use in combustion plants in continuous operation.
MINOS modules are particularly suitable for decentralized security systems and logic units. Thanks to their extremely compact size and wide range of applications, they bring innovative added value in applications.

Main features:
width 6.2 mm

2-channel safety input

1 safety semiconductor output

1 auxiliary output

advanced status and error LED diagnostics

ultra thin & efficient design
Variants of safety modules, SLxD and SLxE:
according to safety level:
- SLxE: Variant for maximum safety requirements up to PL e / SIL CL 3 (according to EN ISO 13849-1 or IEC 62061). Test pulses on the safe output ensure fault detection during operation.
- SLxD: Variant for safety requirements up to PL d / SIL CL 2 (according to EN ISO 13849-1 or IEC 62061). It does not allow test pulses on a safe output. Suitable for controlling sensitive actuators.

according to use:
- SL1E (D): for 2-channel emergency stop and safety guard monitoring with advanced short-circuit detection
- SL2E (D): for light curtains, OSSD outputs, or 1-channel emergency stop circuit

manual / automatic start

screw / spring terminals